QUEENS MAN CHARGED WITH TRANSPORTING GUNS AND AMMO INTO NEW YORK AFTER BUYING WEAPONS AT GUN SHOW IN PENNSYLVANIA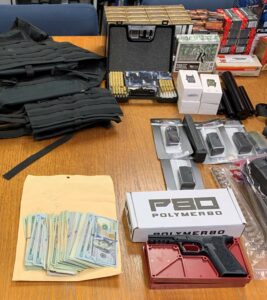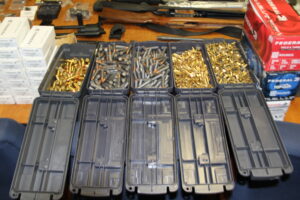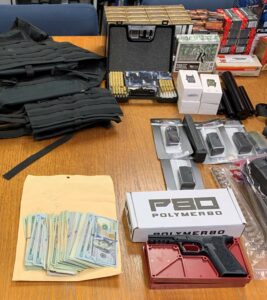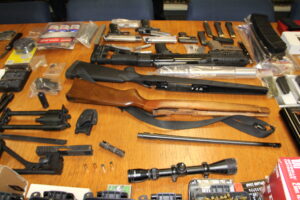 Queens District Attorney Melinda Katz announced today that Richard McCormick, 42, is charged in a 117-count criminal complaint with criminal possession of a weapon and other crimes. The defendant allegedly purchased a cache of high-capacity magazines, firearm components and ammunition at a gun show in Pennsylvania and drove to New York – where all are illegal to possess. Police also allegedly recovered a stockpile of illegal guns, high-capacity magazines, silencers, and ammunition in in the defendant's Richmond Hill home.
District Attorney Katz said, "The scourge of illegal guns in our City has caused bloodshed and heartache. This defendant is accused of taking advantage of the easy access to guns outside of our state in order to bring them into our communities. This is an all-time, too-often issue in our City. We will now seek to bring this defendant to justice for his alleged crimes."
McCormick, of 85th Drive in the Richmond Hill neighborhood of Queens, was arraigned in night court Tuesday before Queens Criminal Court Judge Frances Wang. The defendant is charged with criminal possession of a weapon in the second, third and fourth degree, criminal possession of a firearm, make-transport-dispose-deface weapons and dangerous instruments and unlawful possession of pistol or revolver ammunition. Judge Wang remanded the defendant and set his return date for August 20, 2021. If convicted, McCormick faces up to 20 years in prison.
According to the charges, on August 15, 2021 shortly after 10 a.m., the defendant was allegedly observed in Pennsylvania attending the Oaks Gun Show. McCormick allegedly purchased numerous high-capacity magazines, firearm components and ammunition and loaded the items into a Cadillac vehicle. The defendant then drove through New Jersey and crossed the George Washington Bridge into New York City. Shortly after entering New York City, the defendant was pulled over by members of the Port Authority Police Department.
Police allegedly seized the following items from the vehicle:
44 high-capacity magazines
An upper slide and barrel for a 9mm pistol
A trigger assembly
15 rounds of 12-gauge slug ammunition
1,000 rounds of 7.62 rifle ammunition
A hook knife and switchblade
15 rounds of 12-gauge buckshot ammunition
100 rounds of 9mm ammunition
During the stop, said the DA, the defendant allegedly told police in sum and substance that everything in the car was his. He was bringing it home and he lives in Queens.
Continuing, according to the complaint, police executed a Court-authorized warrant to search McCormick's home in Richmond Hill. Law enforcement seized $8,500 in cash and more weapons and ammunition allegedly from the defendant's residence.
The following items were allegedly recovered from the defendant's residence:
A package containing all parts needed to assemble a 9mm SCCY pistol
Parts needed to assemble a polymer80 .45 caliber ACP pistol
The parts to assemble a 9mm semi-automatic pistol
5 high-capacity magazines capable of holding in excess of 10 rounds
4 firearm silencers
A set of brass knuckles
2 switchblades
3 finished upper receivers for pistols
9,991 bullets for various calibers of weapons, including 9mm and .45 caliber firearms
The investigation was conducted by Investigator Jason Robles, of the DA's Detective Squad, Investigators Al Vasquez and Christian Spears of the New York State Police and Senior Investigator MK Fagan of the New York State Police. Also assisting with the investigation is Assistant District Attorney Shanon LaCorte, of the District Attorney's Crimes Strategies Unit.
Assistant District Attorney Ajay Chheda, a Section Chief in the DA's Violent Criminal Enterprises Bureau, is prosecuting the case under the supervision of Assistant District Attorneys Jonathan Sennett, Bureau Chief, Michelle Goldstein, Senior Deputy Chief, Mark Katz and Philip Anderson, Deputy Chiefs, and under the overall supervision of Executive Assistant District Attorney for Investigations Gerard Brave.
**Criminal complaints and indictments are accusations. A defendant is presumed innocent until proven guilty.