62 GUNS TAKEN OFF THE STREETS AT BUYBACK EVENT CO-HOSTED BY QUEENS DA MELINDA KATZ & NYPD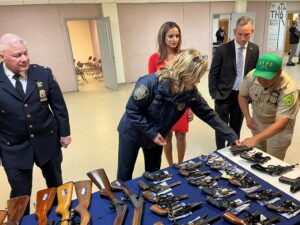 Queens District Attorney Melinda Katz and the New York City Police Department announced that 62 guns were collected today at Calvary Assembly of God Church in Ozone Park, Queens. The gun buyback comes as the city has experienced an increase in gun violence and sought to curb this devastation by accepting working unloaded firearms — with no questions asked — in exchange for compensation.
The gun buy-back event was co-sponsored by the NYPD, the Office of the State Attorney General Letitia James, Assembly Member Jenifer Rajkumar and Assembly Member David Weprin.
DA Katz said, "Every effort that we make against the proliferation of gun violence makes an impact. I am committed to investigating and prosecuting drivers of violence but it is just as important for all of us to work together as a community on meaningful solutions before such violence occurs. Each of the 62 guns recovered today is a potential life saved and a potential tragedy averted. I thank the NYPD, our community partners, faith-based leaders and co-sponsors for their unwavering commitment to public safety."
"Taking guns off the streets is essential to preserving public safety and fighting crime," said New York Attorney General Letitia James. "Gun buybacks are one of the many measures we are taking to prevent potential tragedies and save lives. Every New Yorker deserves to feel safe in their neighborhood, and my office will continue to do everything to protect communities in Queens and across the state. I thank District Attorney Katz and our partners in law enforcement for their shared commitment to this initiative."
Assembly Member Weprin said, "Gun violence is truly becoming an epidemic in our communities. "It's important that we, as elected officials, take direct action and partner with community leaders to take guns off the street. Thus, I'm proud to be one of the many co-sponsors of DA Katz' gun buyback initiative"
Assembly Member Rajkumar said, "Each gun we recovered today is a possible tragedy averted and a precious life saved. Our city has already experienced 1,000 shootings this year. We must use every tool at our disposal to tackle this crisis. That is why I supported today's gun buy back initiative in my district, which gets guns off our streets and will bring down the deadly toll of firearms. Thank you to District Attorney Katz for helping organize this event."
Today's buyback was the seventh of DA Katz's administration. Combined, they have collected nearly 400 guns.